We Help CPG Brands Grow through Strategic Branding and Marketing
Some of the most common problems we help to solve are:
Helping you & your company understand & communicate your brand's Why.
Identifying target audience needs, and magnifying your place in their lives.
Getting your product into retail stores and shelves.
Product packaging design that creates demand, begs to be held and brought home.
Equipping you with creative assets like photo, video, social media, and design that tilts perception & grows brand affinity.
Importing & exporting your brand to and from the U.S.

See our Branding for Consumer Electronics Brand, FUGOO, for Instance.
When FUGOO Bluetooth speakers launched, it had all the makings of a great product, yet no ownable position in an overly saturated market. The consumer electronics manufacturer turned to Magnetic to help develop a challenger brand, position it for growth in the market, and compete at the highest level.

From the ground up, Magnetic developed an ownable position that swept the market by storm. Together we:
Developed a go-to-market strategy that launched their products into retail and online via ecommerce.
Designed a compelling brand aesthetic and content library, including lifestyle and product photography and videos.
Increased organic web traffic 30% year over year with a rock solid content & CRM engagement strategy.
Quickly helped FUGOO become the #1 rugged Bluetooth speaker on the market.
Let There Be No Confusion About Who You Are and What Your Brand Represents.
Every consumer goods brand is competing for relevance. The ones that win think beyond product features to connect on an emotional level. Our approach considers brand and product strategy as one in the same. Helping you craft and mature an identity that makes your products feel less like a commodity and more like a meaningful experience.


Our Agency Process for Branding, Launching, Marketing, and Scaling CPG Brands
Our purpose is guiding and nurturing your brand to be part of a very human world. To manifest this relationship between you and your customers, we've broken our branding and marketing process into three key services:
Brand Intelligence
Creative Development
Consumer Engagement
1. Brand Intelligence
Making Sense of Your Brand's Soul
Brand Intelligence is where we collect, organize, and make sense of the data. It's chock full of research, discovery, customer profiling and competitive analysis.

From the start, one simple rule governs our approach to brand and marketing strategy: make decisions based on data, not opinion. Why? Because in the opinionated world we work in, data helps remove subjectivity.
Brand Strategy for CPG Companies
We'll collect qualitative and quantitative data from trusted sources like you, your team, your customers, and your competitors. Then we partner with trusted research partners like Qualtrics, as well as pulling metrics from digital sources like MOZ, SEMRush, and BuzzSumo.

Our brand strategists contextualize this research in a way that enables you and your team to see what we see, and understand where we're going.
It's a Collaborative Approach to Branding, So Roll Up Your Sleeves.
During Brand Intelligence, we hold brand workshop days with your team to develop a common vision for your brand. Whatever success looks like to you, we sprint towards it.

Building a Foundation for Your CPG Brand
Your Brand DNA becomes the foundation to all brand and creative decisions. Once complete, your entire company will understand (and agree on) what your brand stands for. It's an awesome way of creating unity within organizations.
2. Creative Development
Giving your brand a personality and sense of style
While the Brand Intelligence phase establishes the soul of your brand, the Creative Development phase establishes how we look, sound, and act - it's our perception to the world.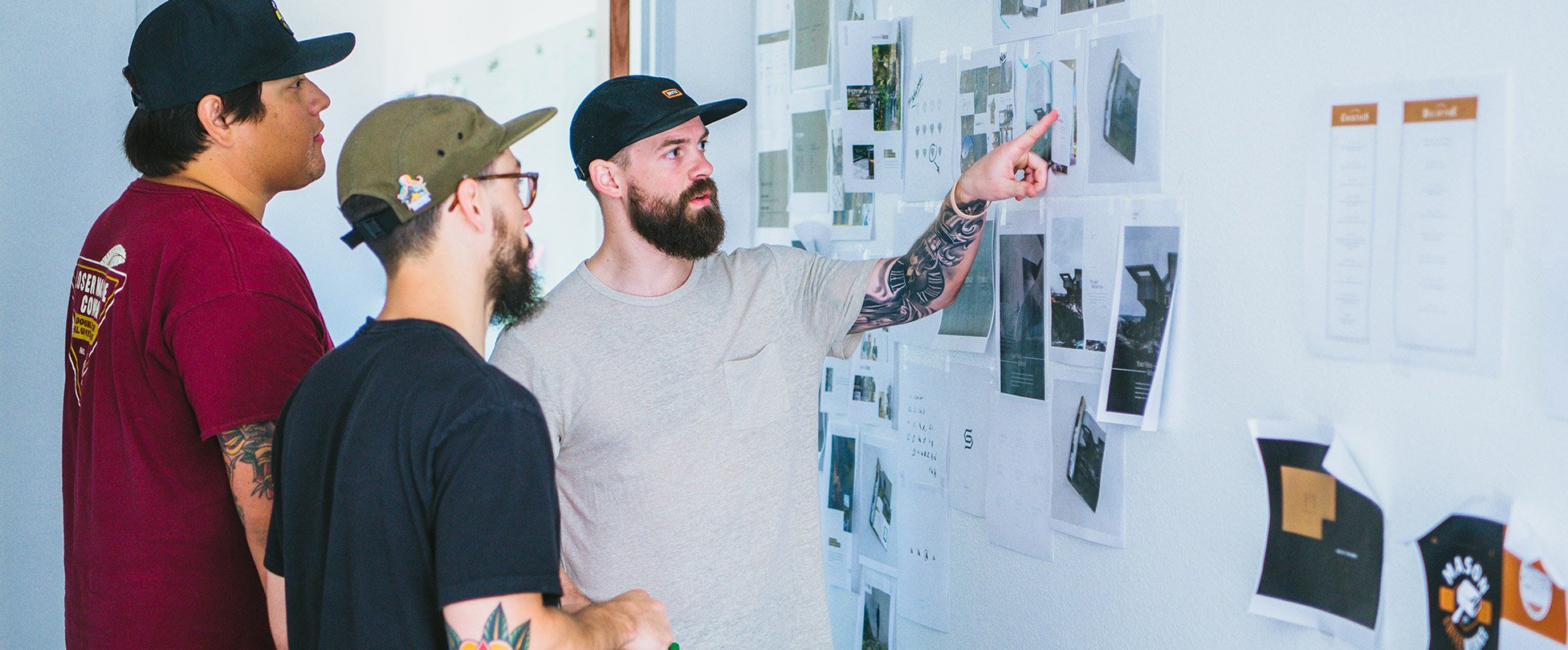 Game Changing Creative Design for CPG Brands
We have a stacked team of designers, developers, copywriters, videographers and photographers ready to let loose and give your brand life.
Check out this project we developed for VIZIO that revolutionized the way consumer electronics retailers think about packaging.

Instead of just another cardboard box collecting dust on the shelves, we thought of VIZIO's packaging as an in-store billboard.
The simple shift from a brown box to full color artwork not only grabbed attention, it helped launch VIZIO into consumer's hearts and minds, and ultimately their homes. It actually influenced the way big box retailers like COSTCO, Best Buy and Target merchandize products in store.
Creative Assets that Drive Your Brand, Product, & Business Forward
Whether refreshed, redesigned, or created from scratch, together we'll determine the right mix of tangible assets that send your brand skyward. Like these informative product renders we designed for FUGOO, which blend product education with elements of the "Go Anywhere" lifestyle.

Then there's this package design we completed for NaturVet, which will be the first in Petco stores to offer safe and natural CBD treats for pets.

Here's a preview of the product & lifestyle creative assets we produced for consumer cooking product company, Nexgrill.

3. Consumer Engagement
Carving your path to consumer hearts & minds
Using our agnostic approach, the brains and talent at Magnetic create pathways to your target audience. We help you make some noise, get people interacting with your company, and generate sales. A phase we call Consumer Engagement.

Engage Your Audience on Their Terms
Becoming a more human brand means engaging your audience where they spend their time and energy. Together we'll define topics your brand can be an authority on, and serve up this content to the right channels, driving brand affinity, product sales, and social influence.

Create Branded Content with Purpose & Intent to Engage
No matter the media you're planning, branded content is a brilliant way to shape and guide your consumer's experience.
Like this branded video series we developed for Nexgrill, which leverages social influencers to tell stories that don't always start at the grill, but always lead back to it.
Leverage Digital Marketing to Educate, Engage, and Activate Consumers
Our team builds strategic digital marketing campaigns around branded content to increase awareness, generate demand, and return net results for your growing business.
---
The Time to Scale Your CPG Brand is Now.
Whether you're ready to jump in full speed or just have a questions for the team, there's no better time to get the conversations started than right now.
We're ready when you are.